Ana Vizcarra Rankin's "Big Maps for a Small Planet"
Don't miss the exciting new exhibition Big Maps for a Small Planet by Philadelphia-based artist Ana Vizcarra Rankin at Cherry Street Pier from March 4 through April 24.
Big Maps for a Small Planet, is a solo exhibition by Ana Vizcarra (A.V.) Rankin featuring large-scale World Maps, Star Maps, and Other Maps. Ranging in size from 5x8ft to 8x16ft, lightweight and versatile, the large scale of this body of work lends itself perfectly to the trusses and walls of the 65,000-square-foot Cherry Street Pier. An exhibition of collaged sketches and other mapping-related works in the Pier's gallery will complement the massive scale of the main exhibition that will hang in the Garden.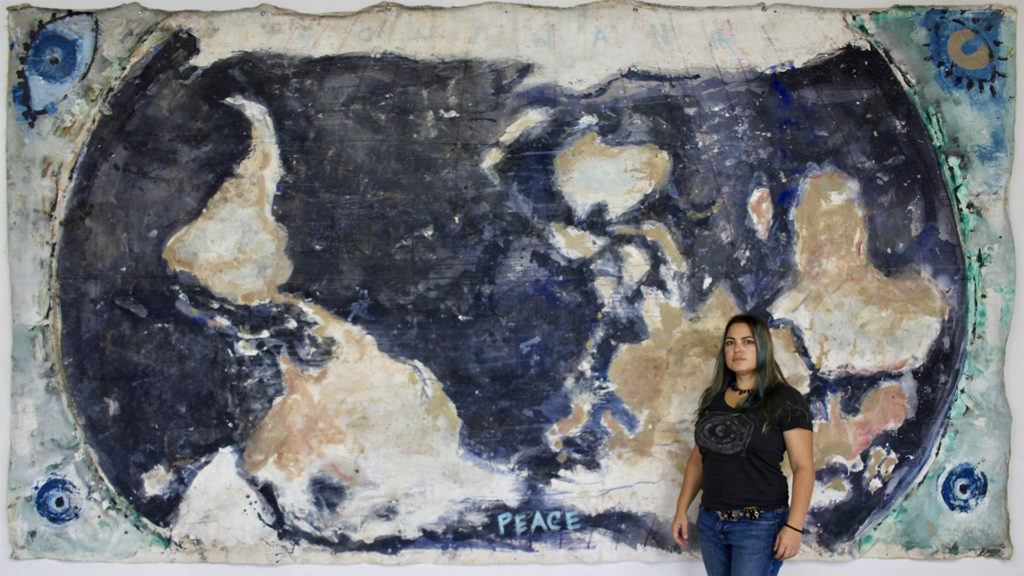 The subject of the Star Maps, which are dark planispheres that document the night at a specific place and time, invites participants to make their way outdoors and look up into the heavens. Cherry Street Pier, with its location on the Delaware River and uncovered garden area, provides a unique viewing platform for an endangered urban sight – the night sky.  The World Maps inspire questions about our values, biases, histories, and the way we think of our surrounding planet in general, by reframing the familiar world map in one consistent way: the (dis)orientation of the South at the top. Other Maps investigate software processes, atomic structures, and other unseen, but real aspects of our world and universe.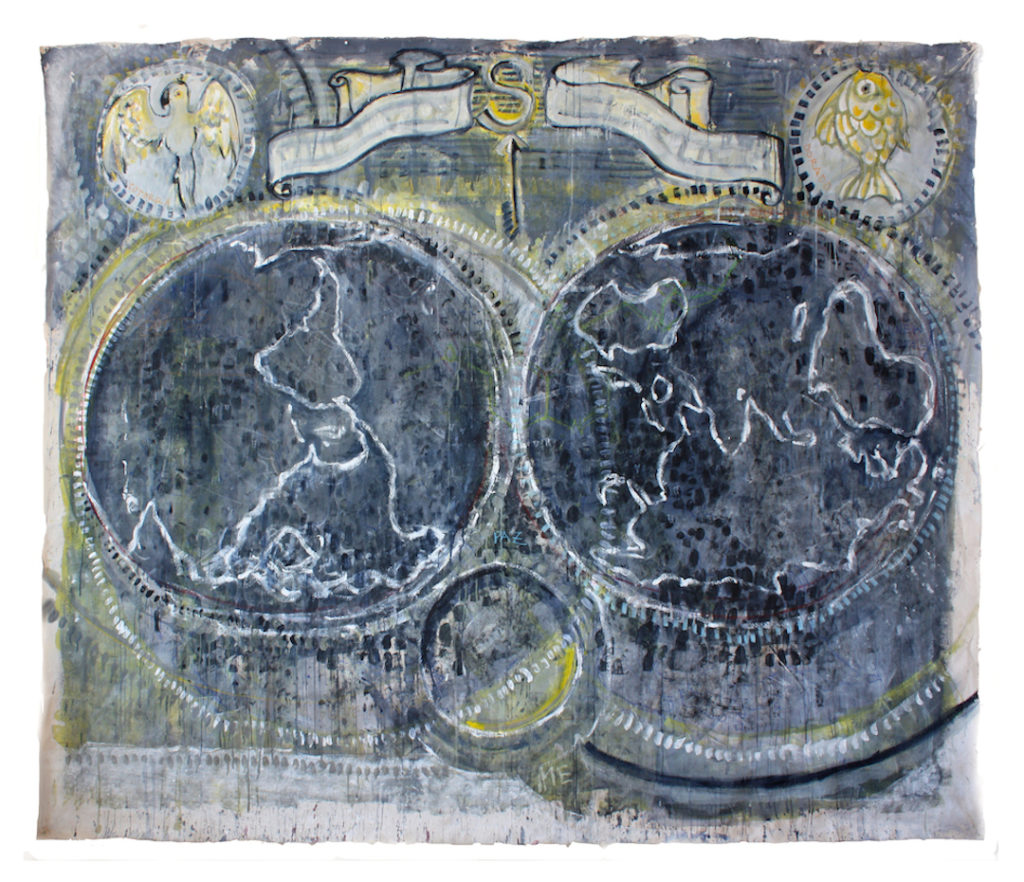 With their humble materiality and varied palette, these paintings depart from the fabricated environment of the city, yet blend seamlessly with the wood, steel, and masonry of Cherry Street Pier, reminding us that the structures that we inhabit have themselves been 'manufactured' using human hands.
Join us for this special programming lineup to immerse yourself further into Rankin's amazing exhibition:
Sunday, March 20 from 1-7 pm: Screening Marathon of Muestra Dislocada
Sunday, March 27 from 3-6 pm: Mapping presentations and conversation with Ana Vizcarra Rankin and guests
Friday, April 1 at 6 pm: First Friday artist tour
Select days beginning on Thursday, April from 3:45 to 5:15 pm: Watercolor classes
Sunday, April 24 from 4-7 pm: Closing reception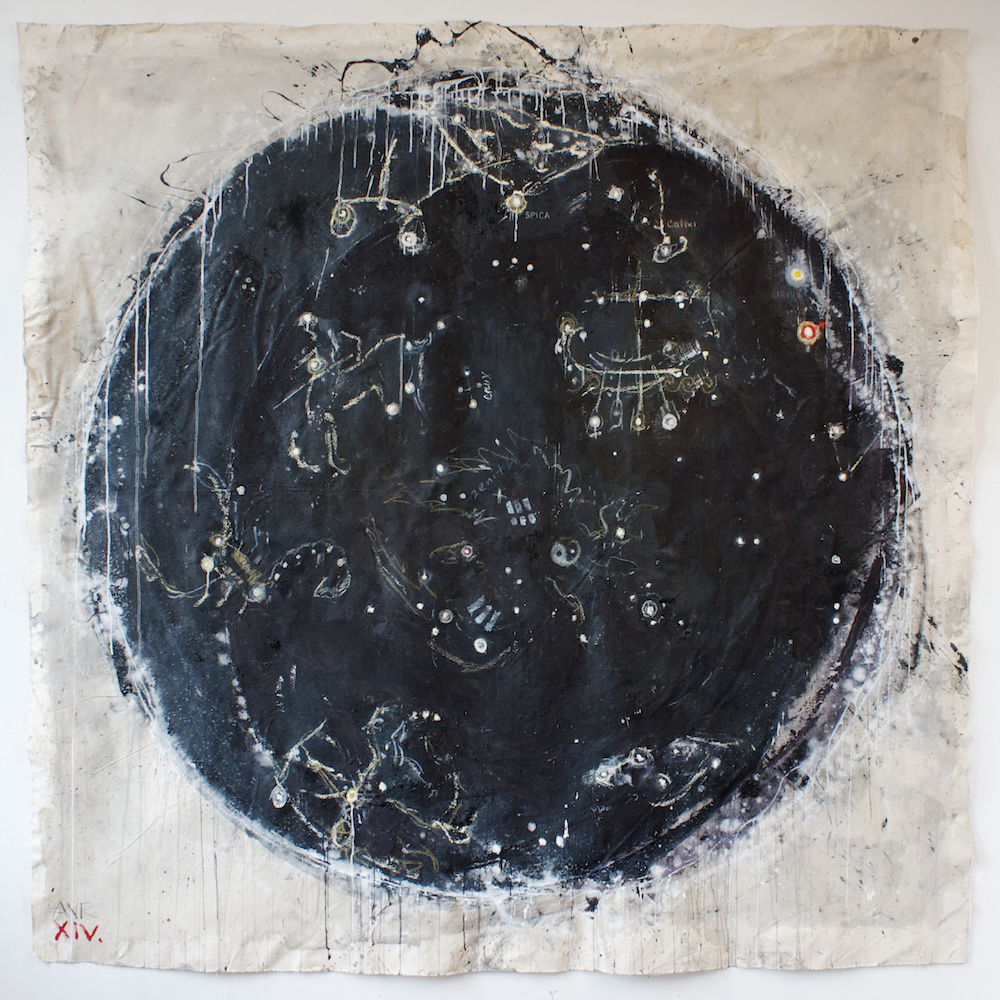 About Ana Vizcarra Rankin
Ana Vizcarra Rankin makes art about mapping, travel, and the phenomenology of being in and of the universe. Her work ranges from monumental canvases to delicate, diminutive works, and considers events that occur in subatomic spacetime all the way to global and cosmic perspectives. Born in Uruguay and raised in both South and North America, Rankin works and lives in Philadelphia. She received her MFA from Pennsylvania Academy of the Fine Arts and BA in art history from Temple University. Rankin has exhibited extensively over the last two decades, and her work is held in numerous private and public collections, including Pennsylvania Academy of the Fine Arts, Brandywine River Museum of Art, Uruguay Cultural Foundation for the Arts, Peoria Riverfront Museum, MOMA Franklin Furnace Artist Book Collection, Brooklyn Art Library, and Print Council of Australia. Ana participated in the first TrueQue Artist Residency in Ayampe Ecuador, was a Barnes Artist in Residence in Umbertide Italy, a resident artist at Liliput Experimental in Puebla Mexico, and is the founder of BrobDinGnag International, a curatorial incubator focused on diversity and inclusion. Learn more about Rankin and Big Maps for a Small Planet.
Learn about our safety enhancements before your next visit.
Review our parking and directions information before your next visit.