July 9, 2020
Blog
What To Know for Your Next Visit
At DRWC, our top priority is the safety of our staff and guests. Our resiliency, commitment to the community, and health and wellness protocols will continue as we navigate the COVID-19 pandemic. As valued members of the Waterfront community, we hope that you are safe and sound during this uncertain time as we react and respond to the pandemic.
PLEASE NOTE: In accordance with the City of Philadelphia's updated COVID-19 (coronavirus) policies, we recommend that guests wear masks inside Cherry Street Pier, but it is not required. Mask requirements inside the artist studios will be left to the discretion of the artists-in-residence.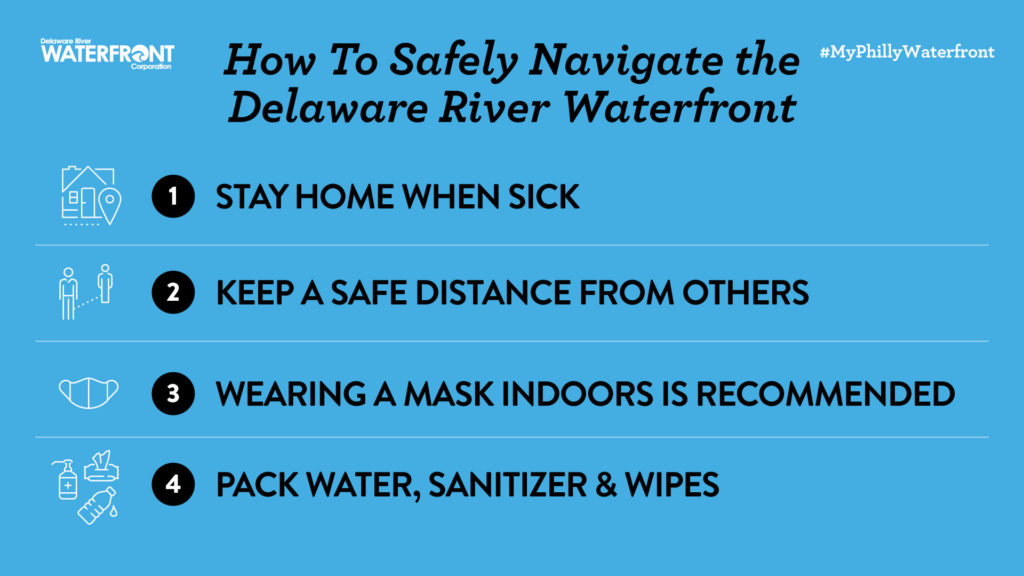 Here at DRWC, we are doing our part by taking the following steps:
Conducting thorough, deep cleanings of all public spaces, administrative offices, and interior spaces frequently
At the discretion of the artists, visitors will be allowed into the studios
Cleaning and disinfecting public restrooms frequently
Visitors will be required to wear masks unless they are eating or drinking while seated
Guests must be seated when consuming food and beverage at the Pier
Sanitizing stations will be available throughout the Pier
Special signage will be posted to help visitors practice physical distancing
Ensuring all staff onsite wear appropriate personal protective equipment
Monitoring capacity at the Pier
Continuously evaluating best practices and recommendations from experts, including the Centers for Disease Control and Prevention (CDC)
We will continue to work closely with the City of Philadelphia and follow state and federal guidelines to ensure we are doing our part to help stem the spread of this virus so that we may all enjoy the fun along the Delaware River Waterfront. We are all #InThisTogether.
Follow us on social media (Facebook , Twitter , and Instagram ) for updates.
Last updated: Monday, April 25, 2022