Arthur Jafa's "Big Wheel IV"
Don't miss Arthur Jafa's Big Wheel IV debuting at Cherry Street Pier. See the installation through January 31, 2022. This powerful exhibition, which honors African American histories,  is part of the Monumental Tour, a traveling public art exhibit, empowering social change through the arts.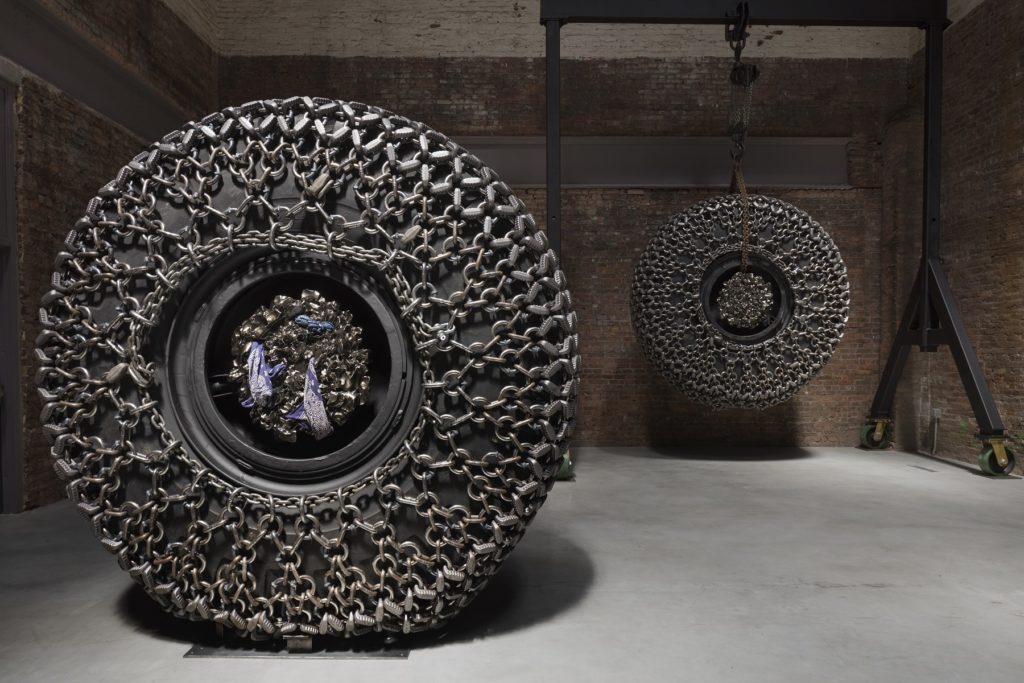 Presented by Kindred Arts, Philadelphia Parks & Recreation, and the Delaware River Waterfront Corporation, the tour also features acclaimed American artists, Coby Kennedy, Christopher Myers, and Hank Willis Thomas whose sculptures will be on display on the Ben Franklin Parkway and John F Kennedy Boulevard.
Arthur Jafa's Big Wheel is a spacious, yearning, and open-ended installation comprising four gargantuan, seven-foot tires originally made for monster trucks. Each is laced with a mesh of iron chain; like industrial chakras, they manifest Jafa's obsession with the culture of monster vehicles that has fascinated him since his Mississippi childhood. The heavy manufacturing evokes the deindustrialization and transition to the service economy that Jafa's generation watched unfold and that dashed so many Black middle-class aspirations. The installation features a sound component consisting of a loop of Teddy Pendergrass ballads, which are as much an authentic product of late-industrial America as are the tires and gantry. This installation was made possible with support from host institution Delaware River Waterfront Corporation.
Arthur Jafa is a filmmaker, cinematographer, and co-founder of motion picture studio TNEG. Jafa was born in Tupelo, Mississippi, and currently resides in Los Angeles.
Interested in learning more? Interact with the piece; learn about its cultural significance, symbolic references and develop your own interpretations and ideas around it; plus, learn about public events at www.monumentaltour.org.
Learn about our safety enhancements before your next visit.
Review our parking and directions information before your next visit. 
Enjoy our concessions during your visit.
Delaware River Trail Construction: Construction for the exciting Delaware River Trail is happening along Columbus Boulevard. The project is making headway and will result in a stunning multi-use trail that will increase accessibility to the Waterfront. The trail is scheduled for completion in Fall 2021.