The Fourth Grade Project presented by Pentimenti Gallery
Exploring the questions: Who do you live with? What do you wish for? What do you worry about?, artist Judy Gelles uncovers the expanding worldviews of young people in Cherry Street Pier's newest photo-based exhibition, The Fourth Grade Project presented by Pentimenti Gallery, on display in The Gallery July 19 through September 1.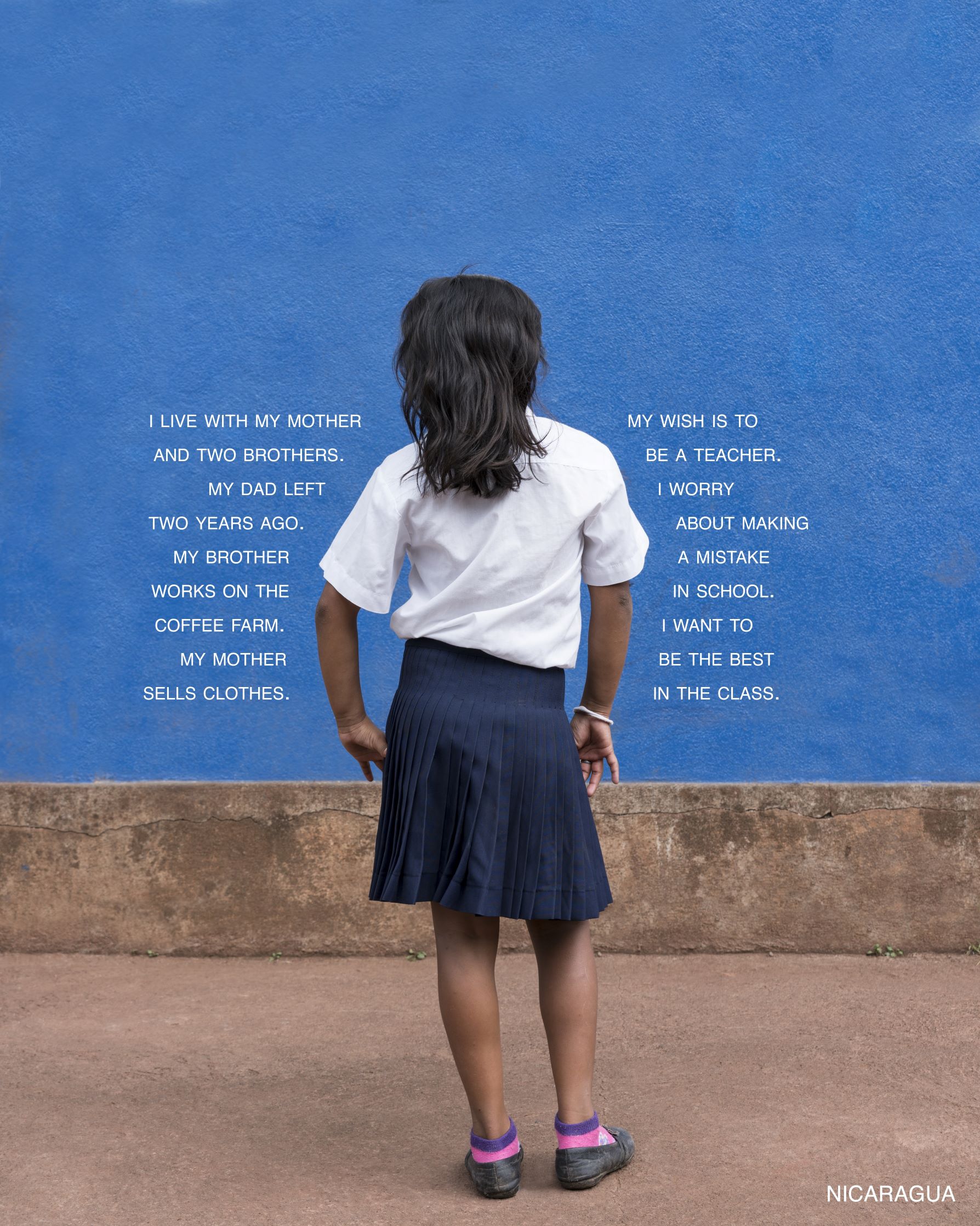 This exciting exhibition is part of The Delaware River Waterfront's new Waterfront Arts program, which officially launches in the fall.
Join us for a special opening reception July 19 from 5 – 8 pm.
Launched in 2008, the Fourth Grade Project was born from a prototype developed while Gelles volunteered at an under-served Philadelphia school. In the past decade, Gelles has interviewed and photographed more than 300 fourth grade students from the USA, China, Dubai, England, India, Israel, Italy, Nicaragua, St. Lucia, South Africa, and South Korea.
Told in the words of the fourth graders themselves, the project holds stories that touch on common human experiences and urgent social issues. Fourth grade is a turning point in a child's life, in which they are thinking critically, developing important relationships, are socially conscious, interested in helping others, and openly curious about the world. It is a moment in a child's development when worldviews and future paths start to become entrenched.
The Fourth Grade Project began as a fine art project and has since evolved into a social justice initiative, providing a web-based curriculum for teachers to use in classrooms everywhere.  The project is now being piloted in three Philadelphia schools.
The Fourth Grade Project began as a fine art project and has since evolved into a social justice initiative with the goal of providing a digital, interactive curriculum for educators to use in classrooms around the world. The project is currently being piloted in Philadelphia schools. By supporting this project you will help create among many things:
an interactive resource for teachers
an expansion of the project documenting additional schools around the world
an increase in empathy and understanding in the classroom
For more information and to donate to The Fourth Grade Project, please visit www.fourthgradeproject.com.
The Fourth Grade Project is a project of CultureTrust Greater Philadelphia, a charitable 501(c)(3) trust supporting diverse cultural practices in the Philadelphia region. Your individual and corporate donations are tax deductible.
About Judy Gelles 
Judy Gelles received her MFA from the Rhode Island School of Design and holds a Masters in Counseling from the University of Miami.  Her work is held in 25 permanent public collections including the Philadelphia Museum of Art and the LA County Museum of Art. She exhibits widely including LA's Skirball Cultural Center and the National Portrait Gallery London.
Judy Gelles began her photographic career by documenting her life as a mother with two young children.  Early on she began to put text with her photographs, a practice that has endured throughout her career. Gelles continued to work with feminist themes exploring her family history and her own life.  She expanded her focus but continued to use the personal to explore socio-political themes.
Gelles has received many awards including Pennsylvania Council on the Arts Grant, a Rhode Island State Council on The Arts Grant, a William Penn Foundation Grant, Independence Foundation Grant, and a MacDowell Colony Residency.  Gelles has taught at Boston College, Tufts University and the University of the Arts, Philadelphia.
Free and open to the public.
Dogs on leashes welcome.
Wheelchair accessible.