King Britt Presents Fhloston Paradigm feat. Pia Ercole (live show) with DJ Pow Pow (ambient – set)

PLEASE NOTE: That King Britt presents Fhloston Paradigm feat. Pia Ercole (live show) will now take place at Spruce Street Harbor Park Sustained By Univest (Columbus Blvd. and Spruce Street) on June 8 from 6pm to 9pm. We look forward to seeing you there!
_____________________________________________________________________________________________________
Join us June 8 for a special performance by legendary producer, DJ, and artist King Britt at Cherry Street Pier for King Britt presents Fhloston Paradigm!
An evening of sonic magic with a special live ambient show from King Britt's sci-fi inspired Fhloston Paradigm. Joining him will be longtime vocal collaborator, Pia Ercole. DJ Pow Pow will open up the night with a set from 6pm – 8pm.
"Quite extraordinarily evocative of extraterrestrial flight. It ripples with familiar tropes, with echoes of Terry Riley & Tangerine Dream" – The Wire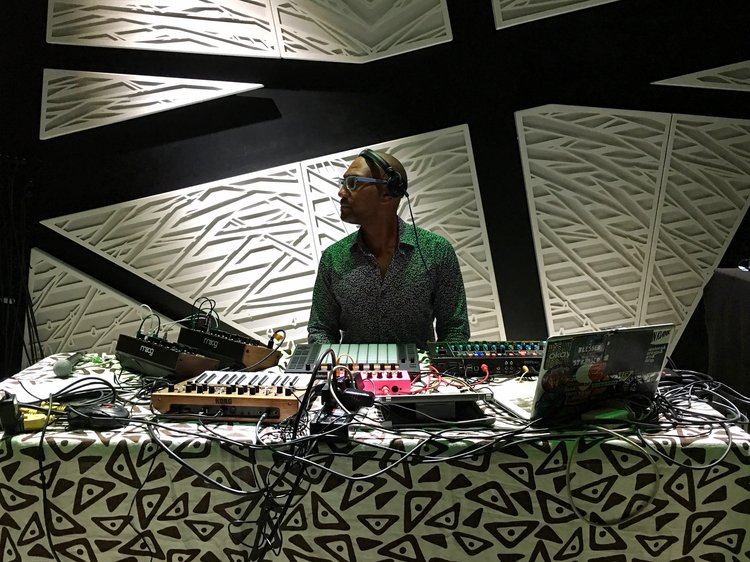 About King Britt:
Honing his skills as the first resident DJ at Silk City (Philadelphia), King along with DJ Dozia, established Back2Basics; a new and innovative music collaboration which merged a live band with a DJ performance. This format serendipitously proved a perfect fit for King to become the original DJ of the Grammy Award-winning group, Digable Planets. After a worldwide tour, King decided to leave Digable at the height of their success to focus on his DJing (house, techno, hip-hop, soul), and production aspirations. Since then, King has continued to DJ globally, spinning on every continent except Antartica. Over the decades, King has played at thousands of clubs and festivals including AfroPunk (NYC), Berghain (Berlin), Liquid (Tokyo), Capital (Johannesburg), Rex (Paris), Fabric (London), Output (Brooklyn), and SummerStage (NYC).
The progression from DJ to musician has been an organic process for King. Given his curiosity and penchant for innovative technology, he regularly immerses himself in understanding the latest sonic tech. This engagement has led to his understanding and appreciation of the nuances of music, a self-taught informal music education.
Dissimilar to DJing, performing on stage for King embraces the art of improvisation of his live original work, much like jazz. This difference between DJ and performer is crucial. As a performer, King solely utilizes various original instrumentation which is distinct and evolving with each subsequent performance.
http://www.kingbritt.com/ or follow him on Instagram and Twitter @kingbritt or on Facebook!