Artist and Artisans Market
Your favorite maker-market is back!
Support local artists, creatives, and entrepreneurs at the Artist and Artisians Market at Cherry Street Pier. Pick up one-of-a-kind finds at the Pier while you safely stroll our marketplace and enjoy stunning views of the Ben Franklin Bridge and the Delaware River. Afterward, stick around for light bites or sips from our concessions or walk the Gallery to explore the latest exhibition.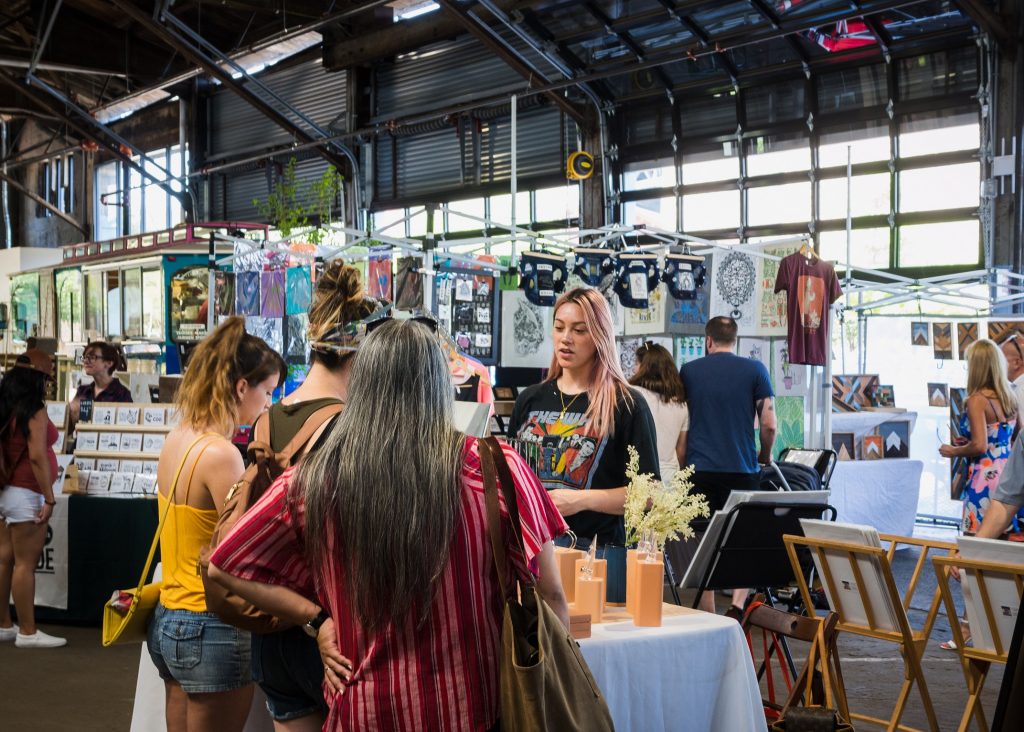 Schedule
Friday, April 1: (Vendors) City Illustrator, Paikoro, Feeling Manic, Kite Curiosities, Roots of Life, Kharysol, Eithar, Creations, by Nsia, Phunk City Jewelry, Full Moon Blends, Contemporary Works, Paint it Forward, Lounge LizZard Designs, Focal Points, Andromeda Cook Studio, Elizabeth Peyton Creations, LLC, Intuitive Crystal Healer, LLC, Intuitive Crystal Healer, LLC, Anchor & Spruce, and Brixxy & Co.
Friday, May 6
Friday, June 3
Friday, July 1: No market
Friday, August 5: (Vendors) Gracious Rebel Designs, What's The Tea LLC, Squul, Shemesh Shop, Sweet Pea Accessories, Anna Hrabowyj Art, Lindsey's Palette, Laurel & Luna, Ori, Blue Door Thrift Store, Mama Phoenix Traveling Bouique, Prettyboycrybby, Street Forensics, Cee Cee, Saya, Ricard Lonnie Designs, Whatarelines, Stacey Woodson LLC, Panic Eyes Jewelry, EverTheRugz, Keeping It Weird, CakeAuf, Regina McWhite
Friday, September 2: (Vendors) Contemporary Works, Remarkable Dcore, Panic Eyes Jewelry, You Are My Friend Co., Bearded Noise, bretanicalskin, ThriftyJawn, Kite Curiosities, Stickman Learning Colors, ACO Jess and Friends, Mi Casa Su Casa, Adri Zalazar, Liz Pop Art, Square Painter, de Paz Arts, Ronni Lynne Art, Regina McWhite
Friday, October 7: (Vendors) Steven Rishard Art, Ronni Lynne Art, Roots for Life, Creations by Nsia, Cat Horn Accessory. Visual Deceptions Clothing Co.,  Inuitive Crystal Healer LLC, Lifted Co., The Eco Joynt, Claranda Tay Candles Co., Craft & Cuiro, KBH, Flourish and Charm, Lounge LizZard Designs, Books & Stuff, Remarkable Dcore, Square Painter, The Zen Building, de Paz Arts, EverTheRugz, Regina McWhite
Friday, November 4
Friday, December 2
Vendor list subject to change.
Important Information