Cherry Street Pier First Friday (December)
Hello, December! We're back with another amazing #FirstFriday at the Pier.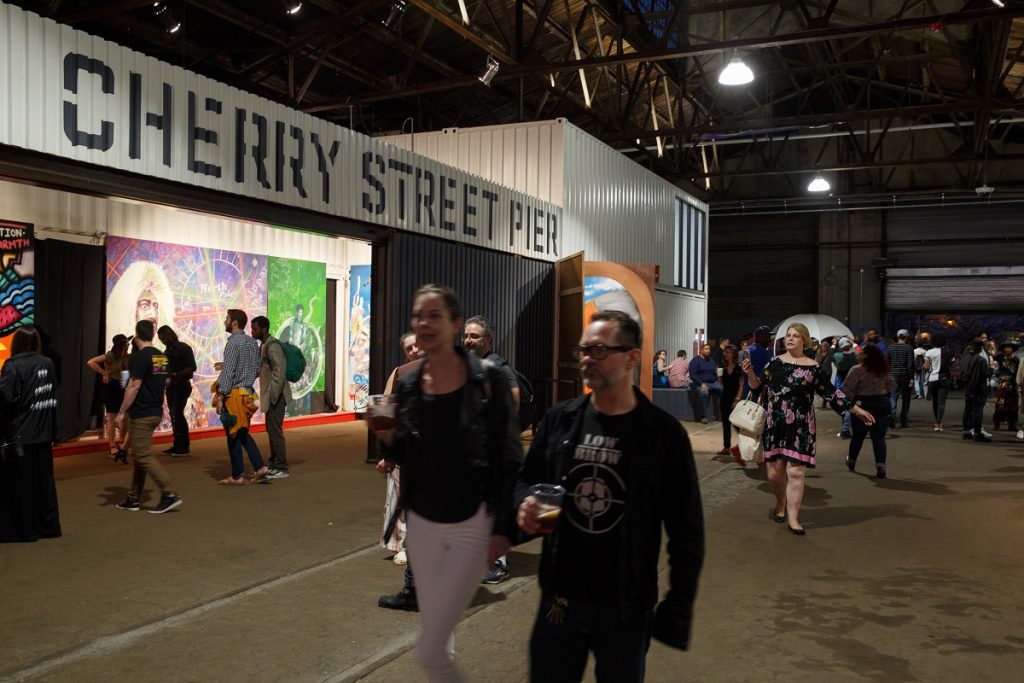 We have interesting installations, exhibitions, and studio tours, waiting for you, including the opening reception for our newest exhibition, A Sense of Place in Studio 1. If you come hungry, have no fear, because delicious eats from Hardena are here!
SCHEDULE
Concessions
Food Hours, 3 pm – 8 pm
Bar Hours, 3 pm – 8 pm
STUDIO TOURS
Say hello to our artists in residence who will be working in their studios throughout the evening.
A Sense of Place Opening Reception
Studio 1
5pm – 8pm
Curated by resident artist Felise Luchansky , A Sense of Place is a three person art exhibit featuring Julia Fox , Felise Luchansky , and Alice Thompson . Each artist depicts a different geographic location, which conveys intimate emotion, memory, and personal history. Media includes large white-line linocuts, mixed media collages, screen printed textile, kites and cut paper.
See in the exhibition through January 1 in Studio 1. Walk-ins are welcome but appointments are encouraged and can be made by contacting Felise at felise@comcast.net.
MUST-SEE EXHIBITIONS
The Unity of Nature: Alexander Von Humboldt in the Americas
Throughout the Pier
Curated by David Acosta, Artist Director at Casa de Duende, The Unity of Nature celebrates the life and legacy  of the German polymath through the work of five artists. The exhibition uses photography, video, sound, performance, painting, sculpture, and photography to pay homage to Humboldt's travels in the Americas, including a stop in Philadelphia in 1804.
"Provident Spaces" by Noel Wilmore
The Gallery
Provident Spaces is a showcase of local artist Noel Wilmore's work spanning more than a decade — with many of the pieces created in the last two years — making its  debut at the Pier. The collection demonstrates Wilmore's artistic approach, which utilizes unconventional materials to inform the content.
CAN'T-MISS EXPERIENCES
Artist and Artisans First Friday Night Market
The Marketplace
5 pm – 8 pm
It's a one-stop-shop for the holidays—buy your gift, get it wrapped, and make a card all at the Artist and Artisans First Friday Night Market featuring 26 of Philly's awesome creatives. Jump-start your holiday shopping or build your art collection with unique items from our marquee market event.
FYI
Cherry Street Pier is FREE and open to the public.
Dogs on leashes are welcome.
The Pier is wheelchair accessible.
Cherry Street Pier is a smoke, vape and tobacco-free zone.