Cherry Street Pier Artist and Artisan Market
We're showcasing Philly's awesome creatives, makers, and artists at the Cherry Street Pier Artist & Artisan Markets. On select weekends, build your art collection with unique items from our marquee market all season long.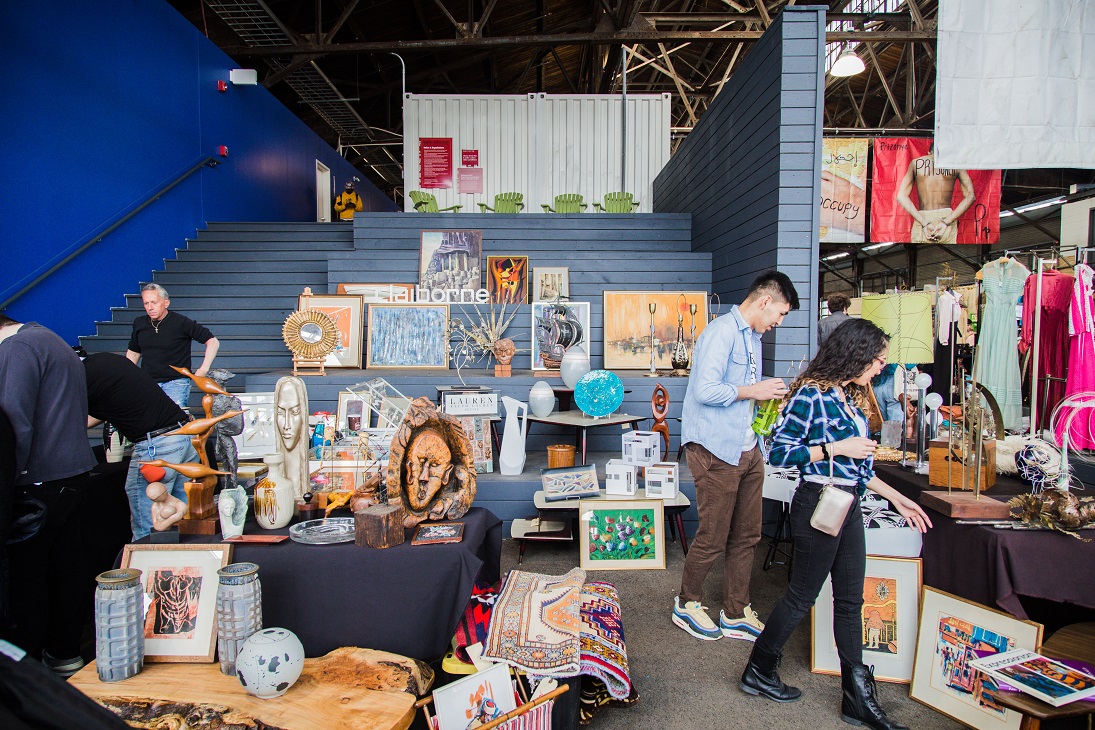 Enjoy more than a dozen artists and artisans selling everything for jewelry, fine art, clothing, wellness items, snacks and more. Plan your visit, by reviewing our market schedule here:
Sunday, June 30
Sunday, July 28
Sunday, August 25
Sunday, September 29
And, if you work up an appetite while shopping (and we know you will!) we have you covered: enjoy Cherry Street Pier's spectacular views while sipping local brews or draft wines from the Pier's bar, or munching on tasty food from Birdies Biscuits, Cooperage Philly, Hardena, and Little Baby's Ice Cream.
To apply to be a vendor, visit HERE !
Vendors for July 28 Market
ColorWheels Fleisher Art Memorial
ColorWheels is Fleisher's mobile art studio, launched in 2012. Dubbed the "Swiss Army Knife of art," ColorWheels delivers creative experiences directly to community members in neighborhoods throughout Philadelphia. The van is equipped with the tools and supplies needed for Fleisher's teaching artists to guide community members in hands-on culturally inspired mini-workshops, collaborative public art projects, and art technique demonstrations. Enjoy FREE activities from 1:30 pm to 4 pm!
$10 Palm and Tarot Readings!
French macaron assortments in traditional, modern, and vegan flavors. Each month Mac'n! chooses a nonprofit to donate a portion of our "Assortment of the Month" sales too.
Organic skincare and soy candles. Skincare includes soap, shea butter, shampoo bars, and sugar scrubs.
Beautiful pothos and snake plants.
Handmade ceramics made from stoneware and porcelain. Vases, bowls, mugs, jewelry are original. Some are planters and will contain live plants.
Fun home decor from recycled and repurposed materials with reclaimed wood, game pieces, maps, sheet music, old advertising and more to create home and wall decor: hooks, signs, frames, shadowboxes, dioramas, tabletop decor, and more!
I am a printmaker and will have a variety of my fine art lithographs and handmade sketchbooks available for sale.
Art prints, apparel, and accessories using recycled material and various printmaking methods. The items are inspired by the natural world, local places, and dreams.
Joann Neufeld and Daniel Neufeld Art  
Mother and son duo offering a display cart of matted paintings and drawings, with some canvas paintings standing on easels. Oil, watercolors, paintsticks, all reasonably priced. Art for the people!
Retro Rewind is a fashion boutique on wheels. We sell Men's & Women's Vintage & Retro clothing. We also sell vintage records & albums all from our vintage truck. The truck is equipped with a fitting room as well.
Hand made crocheted items. Hats, blankets, scarves, kitchen decor and more.
Crocheted and knitted items handmade by me: scarves, sweaters, tops, shawls, and hats.
Handmade Leather Goods – totes, purses, clutches, wallets, key chains, necklaces, earrings, and handmade mixed media jewelry – leather, brass, copper, gold, silver, polymer clay.
Handmade sterling silver jewelry. Soldered, forged, and set in Niki Leist's home studio in Mt. Airy, Philadelphia.
Handcrafted modern jewelry.
Artists Need Lunch Money
We tell artists' stories through products. We collaborate with artists to design, merchandise and sell licensed goods at no cost to them. Artists receive a royalty from all products sold from the collection.
Cherry Street Pier resident sculptor. His art influences range from Warhol, Norman Rockwell, and Basquiat to comic book artist like Alex Ross and Jim Lee, and his artwork often refers to pop and mass culture.
Original art, limited edition art prints and posters, Pure Artistry branded clothing (t-shirts, skirts, dresses, leggings, hoodies). Lee's work uses chromaticism and metaphor to present personal narratives as well as social, political, or historical commentary rooted in my experience as a black man in America.
Sustainable craft goodies for pets.
Free and open to the public.
Wheelchair accessible.
Dogs on leashes welcome.