First Friday at Cherry Street Pier
We're celebrating spring early on First Friday at Cherry Street Pier with Florentia, our flower installation! We are bringing you flowers, flowers, and more flowers from the studios to the marketplace where you can experience a temporary floral installation, take part in a pressed flower workshop, enjoy flowery studio visits and so much more!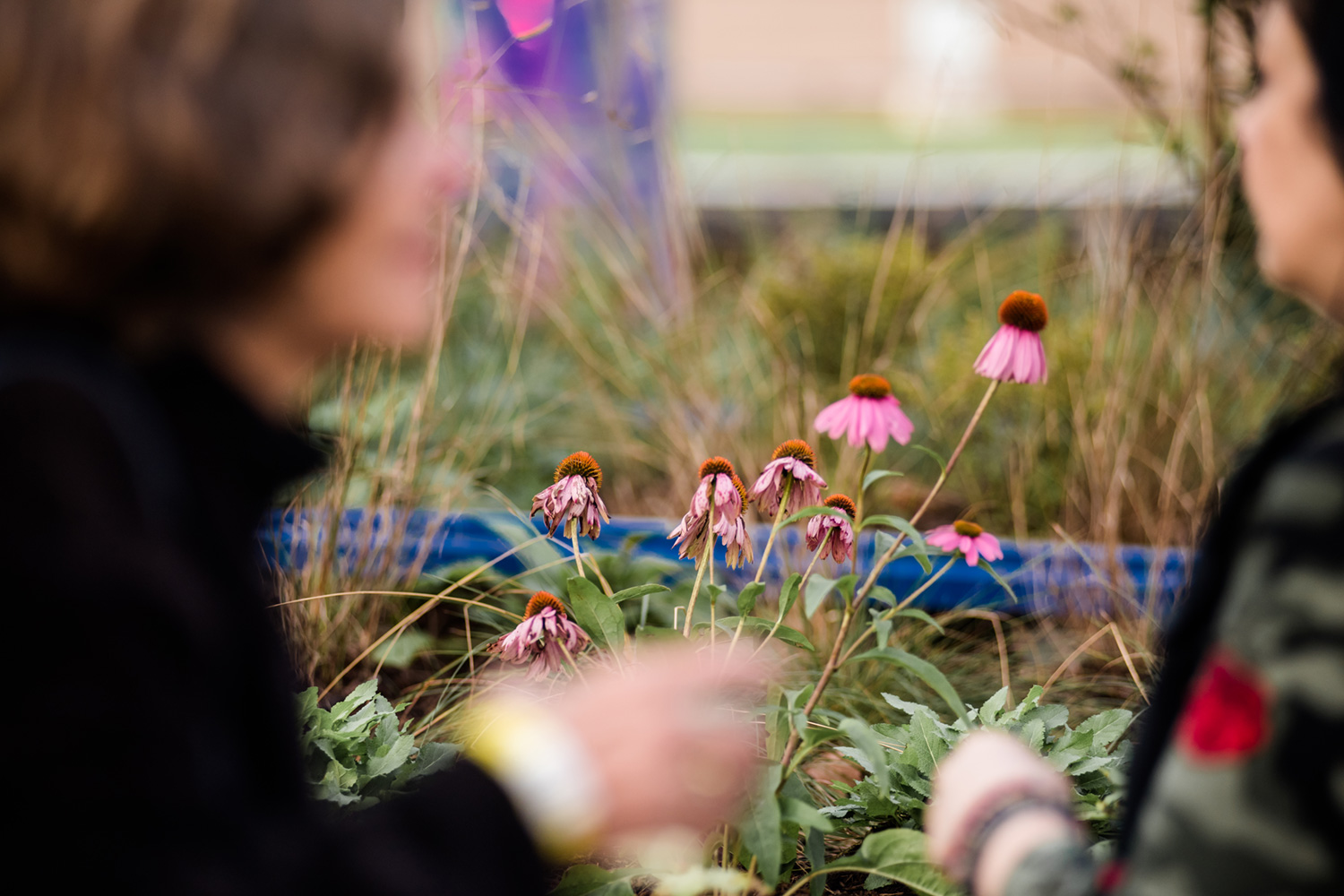 Ready for springtime? So are we! That's why at First Friday at Cherry Street Pier we're thinking springtime thoughts (sunny skies and warm weather, please!) with this great lineup of floral-themed activities. So, gather a friend or two and head to the Pier, because it's time to smell the roses!
Schedule:
Photography + Floral Design Installation
Location: The Gallery
Get a whiff of this interactive exhibition featuring photographs of Florence, Italy, by resident photographer Jim Abbott, and with floral responses composed by Clara Sophia Flowers.
The Making of a Butterfly Time Lapse Film by Joel Bellucci
Location: The Marketplace
Come see Cherry Street Pier's enormous video screen in action with a presentation of short films by Joel Bellucci exploring the life-cycle of the monarch butterfly. These gorgeous short films feature a close-up view of the beauty of the butterfly including a time-lapse of a monarch caterpillar shedding its skin to reveal the chrysalis underneath.
Location: The Marketplace
Shayna Papir or "beautiful paper" in Yiddish, truly takes her name to heart.  Her artwork has been featured in national retail installations, art galleries, and events, including  Fortune's Most Powerful Women Summit, the CPF Design for Disability Fashion Show hosted by Derek Lam, and the Philadelphia Flower Show. For Florentia, she brings a stunning installation of vibrant paper flowers to the North wall of the Pier. These meticulously crafted flowers will create a splash of color against the backdrop of the Delaware River and Race Street Pier.
Pressed Flower Demonstration by Anaïs Cooper-Hackman
Presented by Habitheque
Location: The Marketplace
Time: 5pm to 8pm and again on Saturday, March 2 from 1pm to 4pm
Plants and trees are the quiet but powerful jewels of our freshwater ecosystem— from headwaters to confluence— that often go unnoticed. Please join us for a free flower pressing workshop that honors and memorializes the beauty of some of our greatest natural allies in the clean water movement! We love creating new ways of engaging the public with the natural world and this hands-on opportunity will introduce you to a new craft that can bloom all year long. After the workshop, your pressed flower artwork will be yours to keep or give to someone you love.
Wearable Flower Workshop with Clara Sophia Flowers 
Location: The Marketplace
Clara Sophia Flowers will be hosting a wearable flowers workshop where visitors can learn to make a boutonniere, corsage or flower crown. Best part? You can take your creations with you to enjoy the colors of spring in the days to come.
Available while supplies last.
Mobile Mussel Cart
Presented by The Fairmount Water Works
Location: The Marketplace
Time: 5pm to 9pm and again on Saturday, March 2 from 11am to 5pm
The mobile mussel cart presented by the Fairmount Water Works is the outreach arm of the Mussel Hatchery and Living Laboratory. This unique educational vessel demonstrates the ecological benefits of freshwater mussel restoration within the Delaware River watershed. Come learn about the importance of mussels to our waterways!
In Studio
Meet our resident artists and watch them at work as they make their unique creations. Our artists represent diverse mediums ranging from photography, film, music, and poetry, to fabric arts, painting, and industrial design.
Studio 2: Carla Fisher
Fisher will showcase some of her stunning floral-influenced fiber work.  
Studio 3: Victoria Prizzia of Habitheque
Habitheque has partnered with Mushmina for a special in-studio pop-up shop. A unique fashion brand with a social mission,  Mushmina employs and empowers Moroccan artisan communities by selling their custom handmade items, such as handbags, rustic jewelry, embroidered clothing, and scarves. These items are carefully designed to promote the ancient techniques and vibrant culture of Morocco in a modern way. 
Studio 13: Ed Marion
Marion will do what he does best — painting stunning flowers. Come see him at work throughout the evening.